Lancié
AOP Beaujolais Villages 2018
– without sulphites –
Recognized by
the medal of Grumage of the Compagnons du Beaujolais.
Intense cherry red in color. Powerful aromas of red fruit finish on delicious black fruit notes with a touch of spice (pepper, vanilla). With a clean, forthright attack in a register of red fruit, the palate evolves towards black fruit underlined by a chalky and granitic minerality, perfectly complementing the spicy aromas on the nose with elegance and complexity. A wine of great purity and integrity, which will benefit from being decanted before serving.
Some examples of food and wine pairings : tapas, pancetta, prosciutto, pata negra, grilled red meats, beef bourguignon, poached eggs, snails, frog's legs, spaghetti bolognaise, regional specialties: cervelle de canut (cheese dip), tablier de sapeur (tripe), red fruit salad…
Note : most wines "without sulphites" are in fact wines that have had no sulphites added but do naturally contain significant doses of sulphites (20mg/l, 30mg/l or more), and must state "Contains Sulfites" on the label. This wine contains no sulfites within the meaning of the legislation, and therefore this mention does not appear on the label. The wine's stability is assured by strictly limiting its exposure to oxygen thanks to meticulous use of protective inert gas.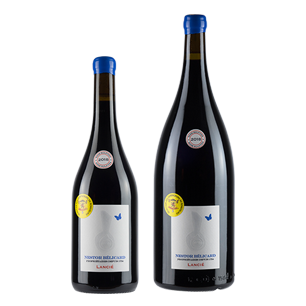 Rosé de
Rosalie Bélicard
AOP Beaujolais Rosé 2018
Recognized by
the medal of Grumage of the Compagnons du Beaujolais.
A glimmering, brilliant, pale peach colored wine. Intense aromas of small red fruit (raspberry, redcurrant) evolving to note of yellow fruit (peach, apricot) and finishing with a floral flourish. In the mouth it is bright and lively with the freshness of grapefruit and lemon and a fresh mouth-watering finish.
Some examples of food and wine pairings : sushi, sashimi, tuna or salmon carpaccio, ceviche, lobster, king prawns, crayfish, baked white fish, white meats grilled or in cream sauce, Asian cuisine such as sweet and sour dishes or Peking duck, duck with orange, salads, tabbouleh, vegetable tajines, foie gras, soft raw milk cheeses.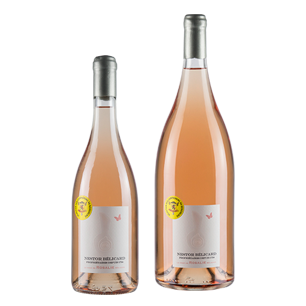 Morgon
Les balmes
AOP Morgon 2018
– Oak barrel aged –
A richly dark wine the color of very ripe black cherries. Intense aromas of black fruit, spices (cinnamon, vanilla, licorice) and brioche on the nose. Predominant notes of jammy black fruit in the mouth, finishing on elegant toasted notes of integrated oak.
Some examples of food and wine pairings : Regional charcuterie and deli meats (rosette, jésus sausage, saucisson, pâté en croute), pan seared steak, coq au vin, baked andouillette, rabbit, wild boar or venison, poached eggs, ravioli, fresh or mature goat's cheese, ewe's milk cheese, mountain cheese, walnut tart, praline tart…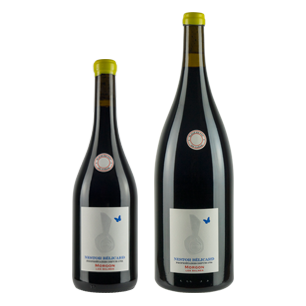 Fleurie
grand pré
AOP Fleurie 2018
– Oak barrel aged –
Deep garnet red with gleaming reflections. An explosive nose of black fruit with a fine touch of oakiness and warm brioche to finish. Incisive and pure on the attack, with succulent notes of blackcurrant and blackberry complemented by a superbly tangy touch of redcurrant and floral notes of violet and peony. Refined finish of supremely integrated oak.
Some examples of food and wine pairings : Lyonnaise Salad (croutons, bacon, soft boiled egg), marbled ham terrine, chicken casserole, lamb tajine, vegetable purees, lasagna, mature, strongly flavored cheeses, peaches and pears in wine, profiteroles…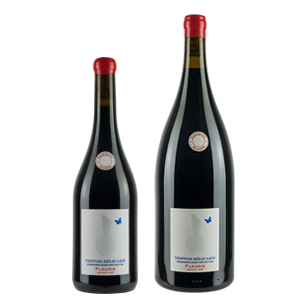 Cuvée
NB 2019
Vin de France
« A light, fresh and very fruity wine – a real thirst quencher to enjoy with friends. »
Some examples of food and wine pairings : the ideal lunch for a frugal lunch or dinner, paired with simple things, everyday dishes. Pleasure of sharing.…